Thursday, November 30, 2006
Tuesday, November 21, 2006
Sorry I haven't posted recently! November is National Novel Writing Month, which means I have been working like crazy on a story that's fallen behind, and on top of that, this is the time of year when I freak out about how many gifts I need to finish by Christmas...not to mention that both of my parents' birthdays are in December. *cries* I have too much to do.

So of course, with all this Stuff to Do, I decided to slack off participate in the "Flash Your Stash" on secretpal_lj3, over on LiveJournal. It took me an hour to photograph the whole stash, which I discovered would NOT fit onto a queen-sized mattress. Not even with stacking. -_-;;

So here we go!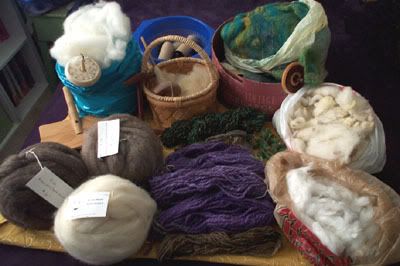 My Spinning Stash, with my 3 spindles, niddy-noddy, 3 bumps of wool from a local CT farm, a lot of my handspun, a bag of washed but uncarded fleece, and a bag of bunny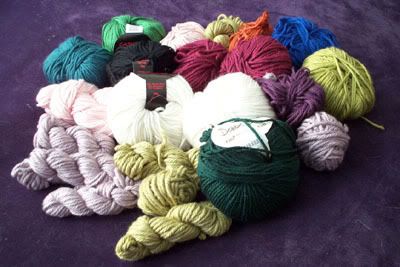 Debbie Bliss Cashmerino aran & cashmerino chunky, and a few skeins of a knockoff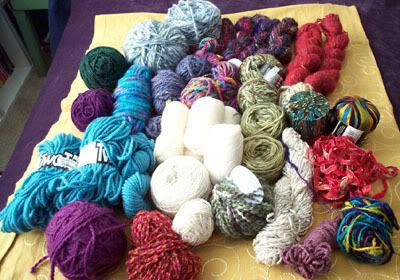 Assorted chunky plied yarns, some of my chunky handspun, sparkly and shiny yarns, recycled silk, recycled silk & wool...the white mass in the middle is some fingering weight vintage wool.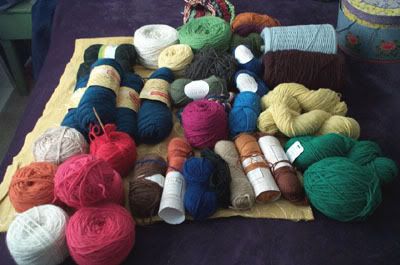 Worsteds & DKs, plied. Lots of KnitPicks WotA, Cascade 22o, Cascade Eco wool, some vintage teal green wool, two colors of a local co-op's wool (the bright green & yellow on the right), 2 cones of wool, OH and some KnitPicks Ambrosia in the very front & center. :) Also, some laceweight alpaca made it into this pic somehow; I must have been distracted by the cat and put it here by mistake. :)



Cottons, sock yarns, & Superwashes. Superwashes in the upper right, including some Filatura di Crosa and some Mission Falls 1824. Kitchen cottons in the upper right, then moving down to Berber Cotton, then sock yarns...some Mountain Colors Bearfoot, Trekking XXL, Cascade Fixation, some leftover Artyarns Ultramerino 4, then some Nature Cotton, and mercerized cottons on the bottom left.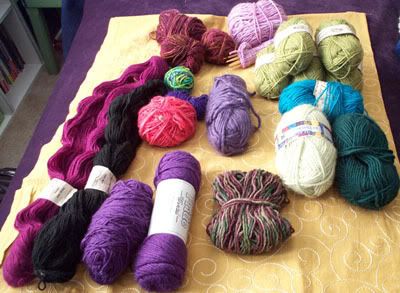 Single-ply wools. Includes some Tibetan wool on the left, then some Manos del Uruguay and some debbie bliss that matches it exactly, a lot of Reynolds Lopi & Lite-lopi on the right, the multicolor in the front is Farmhouse Yarns (local spinner), 2 skeins of Brown Sheep Co. Lamb's Pride in purple, and last some assorted yarns from old projects.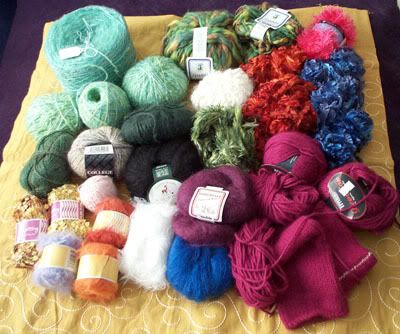 Fuzzy and shiny yarns. Starting in upper left, a metric tonne of a kid mohair/acrylic blend that I got online, some acrylic thick & thin that makes amazing scarves, 1 skein of Berroco Sizzle, several skeins of Bernat Boa and some Splash that looks like lettuce, 4 skeins (well, 2, but the socks take up the other 2) of Reynolds Devotion, an angora/nylon blend that makes awesome socks, a few balls of mohair, some Plymouth baby alpaca, a few Target yarns, some mohair/nylon blend called "college", and the single green skein on the left is what's left over from my husband's alpaca socks.



Eleanor (from the book Scarf Style) in progress, with 3 balls of the yarn being used, plus 1 of the same yarn in a different colorway. The yellow is called 'citrus' and is dyed locally by my favorite LYS owner. She dyed the yarn for Eleanor specifically for me; it's called 'citrus grove' because it uses the same colors but in different amounts. I have 2 more skeins of this on hold for me at the shop...I'm buying it one at a time. :)

...And that, my dears, is what obsession looks like.

This week is killing me. I will have pics of the finished bad-ass bag once I recover from finishing an art commission AND a knitting commission that's almost done. XD

Anything in the stash that you have suggestions for me to knit? I'm open. I need to add some new items to the Shop. :D