When I got to borrow the Sleeping Beauty wheel, it had been used for a long time by several different owners. The wheel itself is at least as old as I am, perhaps more--this model was made only during the early 1970s before it was redesigned. I got it with two bobbins, and there were some worn parts. So I decided to spruce it up a bit (with the permission of the owner, of course!).

First, the brake on the maiden was simply worn out. I just needed to cut a new piece that was 1/16" larger than the old one.




A more complicated fix was the broken bobbin. While not completely necessary for normal spinning, the section that had broken off the whorl rendered the bobbin too short to fill completely. I sanded the broken edge smooth, cut a new piece from a thin scrap of wood (poplar, I think) and glued it on, then sanded it all smooth. This removed some of the old finish, sadly, but it's worth it to have a better working bobbin. Apparently, this also cured an issue with balance, as it seems to spin better now than it did. I also filed out the bushings (the interior liners for the openings) a bit, as the wood had compressed them over time. It's still noisier than the other original bobbin, but MUCH better than it was.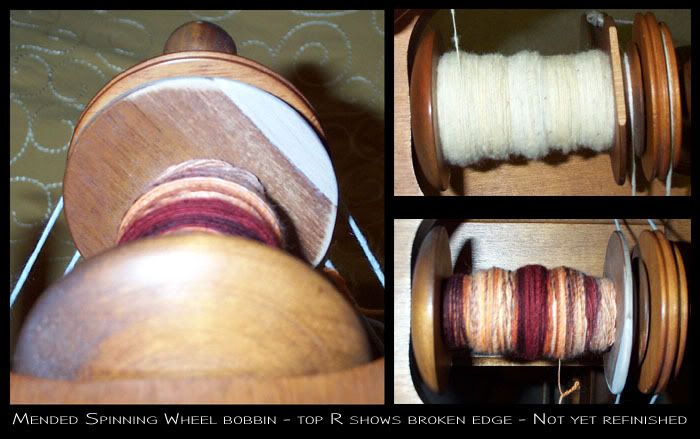 And yes, that's the beginning of my work on the Sock Hop yarn. :D Colorway: Great Balls of Fire! :D

Last, and most complicated, was the reproduction of a new bobbin. Bobbins (and frankly, any parts) for this particular wheel are extremely rare and hard to come by. My dad and I got out the lathe and designed a replacement whorl and head out of Spanish cedar. The shaft is just a normal 3/4" dowel, drilled through. It's pictured here before I polished it with steel wool, to get rid of any tiny roughness raised by the tung oil used to finish it. For reference, the bobbin with blue singles on it is the old one, while the empty one is the new one. :)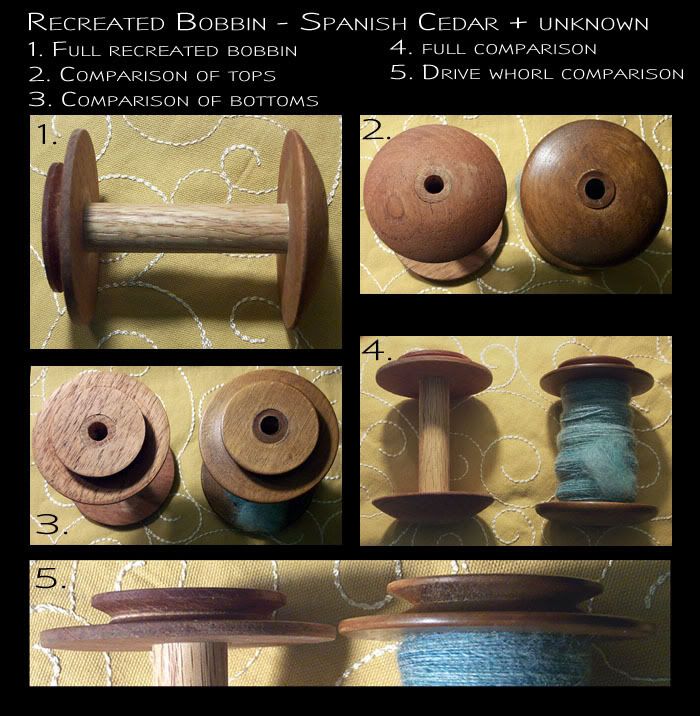 The hardest part was reproducing the drive whorl--it had to be at least ALMOST exact if not perfect, so this bobbin would turn at the same rate the other bobbins do.

After giving it a whirl (hurr hurr), it looks like the bobbin is just right! The brake works beautifully on the maiden, and the broken bobbin doesn't act up as much as it did. All in all, not a bad day in the shop. :)

Back to spinning!!