I'll have the divinebird.com post soon--for now, though, I am sharing my load of finished objects & yarn with you. WARNING: SUPER pic-heavy...I just got hold of a camera that works so I'm using it like crazy.

First, the yarn I bought at KnitWits in Westerly, RI.

Recycled silk from Mango Moon



Need a better look? How 'bout THEM apples?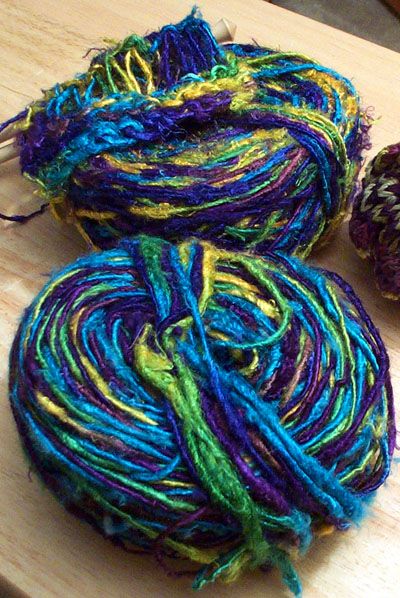 I love this yarn. It isn't as consistent as most of the recycled silk I've used, but I have a feeling this will make a GREAT bag. Word of warning, though--the blue rubs off on your hands. Highly recommend washing before using whatever you make out of it. :)

Here's the alpaca I found. It reminds me of 1950s and 1960s camping. Like, these colors would totally belong in a woodland lodge, probably on some fedora-wearing dad who smokes a pipe and wears black-rimmed glasses. It's all the tan and green, I think. Yarn is Aurucania Nature Alpaca, handpainted.





And then we have the projects.


Summer Dice Bag
Yeah, I have a seasonal dice bag. My cashmere/alpaca one is too fuzzy and warm for summer gaming, and I liked the Berroco Cotton Twist in these colors. It's a little shiny and silky, and less likely to make my hands damp or sticky when carrying it in our 90+ degree muggy summers here.




Stripy Crochet Bag
This wasn't meant to be anything originally, but I crocheted the circular bottom and thought, why not keep going? More Cotton Twist, but in solids this time. The green is about right, but the blue is a rich, bright turquoise that never translates well to the screen.




I like the bag; it's cute, but I don't think I'll actually use it. This may end up on my Etsy shop when I update soon.

Crochet Linen Market Bag
Another crochet project, though this time, I used a finer gauge hook and yarn. I wanted an open, lacy design that I could do without having to refer back to a book constantly. I found this pattern in my awesome "Encyclopedia of Stitchery" that I got for a dollar on the bargain table. BEST-SPENT DOLLAR EVER. The yarn is Louet Sales Linen in a very deep plum color. (I'll edit with the correct name when I find the label.) I tried to adjust the colors in the images so you could see the color better. This is a bag I know I'll keep; I've already started using it like crazy!

If you like the pattern, I'll post it--I kind of made it up as I went along, and I've never written a crochet pattern, but at least I can give guidelines & stuff if you want to make one yourself.




Granddad's Scarf
Not really FOR my Granddad, but knitted in May & June while he was in the hospital and then, after he passed away, during my grieving. I usually think seed stitch is annoying (albeit a more beautiful alternative to garter), but it was so soothing when my nerves were frayed. It was just enough pattern and thought to keep me conscious of what I was doing, but rhythmic enough to do without making mistakes or having to keep track of anything when I needed to focus on my family. I don't honestly know what I'm going to do with it yet, but that's ok. I will figure it out when I need to. Yarn was a Soy Silk, can't think of the brand name right now. I'll edit that when I find the label, too.




Whew.

And one last pic of my pretty Miao Yin. Just because.