I actually got this yesterday, but my camera and my computer don't like talking to each other for some reason. Making them work together is like convincing two petulant children that they have to be nice to each other. XD

I got my GORGEOUS Funky Scarf from my Funky Scarf Swap Partner, Jill, who sounds like someone I would totally hang out with in real life. :D Check it out--it's Silk, Rayon, & Wool...and the colors ARE that bright!! <3

Full view: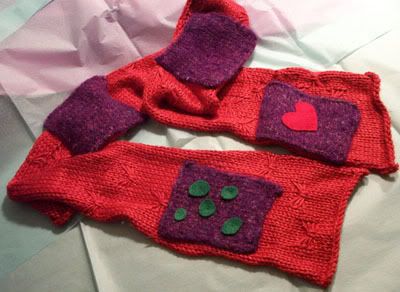 Detail: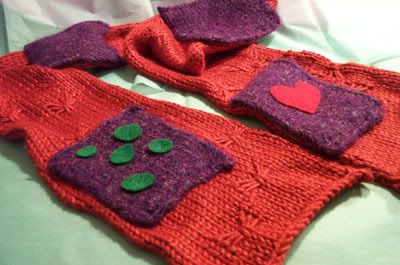 Closer detail:



In other news, last week my husband celebrated our 5th anniversary with SEX--Stash Enhancing eXpedition, that is. ;) (There was the other kind, too, but you guys don't want to hear about that, now, do you?) We ended up taking a long drive through beautiful Granby and Avon and Simsbury, CT, on a perfect day to view some awesome autumn leaves. We're talking blue sky, puffy white clouds, brilliant yellow and flame red trees, and...ponies?

Yep, East Granby was hosting some of the Painted Ponies. It really was too bad that I didn't have my camera with me, but suffice to say that the ponies were all awesome. My favorite was a geometric rainbow-colored one.

Then we reached our destination: the Wool Connection. WC has the distinction of being the first 'real' LYS I ever shopped in--I talked about it a few posts ago when I ran into Linda, a spinner who works there. I had some Citrine-colored Manos del Uruguay in my hand when I happened to find their bargain bin...HOT DAMN but they had four balls of Devotion in a delicious deep magenta. Let's see, what's more enticing: a yarn I can find elsewhere for the same price, or $40 worth of angora/nylon yarn that happens to be the precise yarn called for in a particular pattern I wanted to do...for $25? Yes. Twenty-five dollars. Be still my heart.

I also happened to notice a single skein of Mountain Colors Bearfoot that exactly captured the autumn colors of my drive up there...which meant it, too, came home with me. I JUST finished winding the skein into a ball, and I aim to make a pair of socks using the doubleknit technique described in Knitty. Oh yes.

Pic of my haul (total price: $44)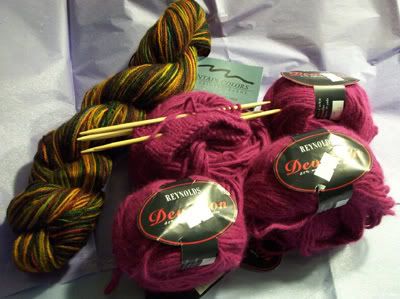 In sad news, DM's brother-in-law passed away last week on the very same day, so it's been a week of ups and downs. The funeral is tomorrow...so I'd probably better go get my clothes set now.

Much love!