Thanks to the lovely Yarnyoga from Livejournal, I am now in possession of a nearly-new spinning wheel. It's an Ashford Traveller, which is one solid hunk of wood, let me tell you! I feel like I could knock it over and it would still spin just fine. :D

And I CAN spin fine on it; took me a half hour of fiddling around with the tension and learning how it acts differently from the Thumbelina (my borrowed wheel)--which is in just about EVERY way. I do think this is far more adjustable, and at least I won't have to make replacement parts!

I love that it's unfinished; there's nothing on it except a single coat of furniture wax that YY put on it in 2004 when she got it. I can do anything with this wheel!

So the plans are still to purchase the Babe production wheel, to use for my Sock Hop spinning, and to use this one for my personal spinning--that way, I can have one dedicated wheel that is always used for the same purpose so I don't have to adjust it repeatedly, and the second wheel will handle my stuff for my shop, my personal use, and testing out new techniques or fibers.

Isn't she beautiful? :D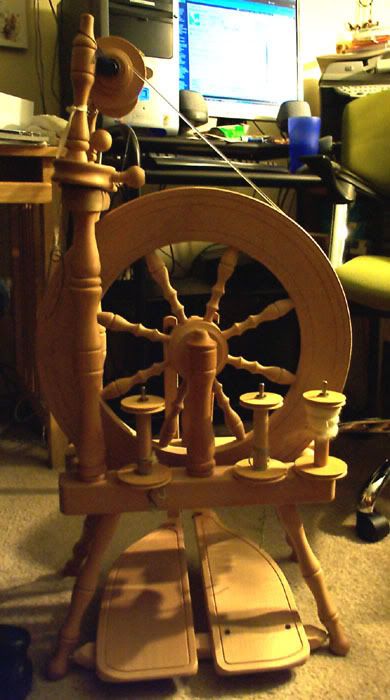 (please ignore the craptastic low-light pic. I'll take better ones later. :D)

So far, the things I've noticed:

The wheel will stop if I stop treadling. The Thumbelina would keep going, so I have to get used to this.

I love having the maiden (the part on the top that holds the yarn I'm spinning) on the left. I draft from that side of my body, and this makes it more in line.

Treadling is much more work overall, but the double treadle makes a huge difference and puts less strain on my legs than the single treadle did.

Adjusting the tension is FAR more complicated on this wheel than it was on the Thumbelina.

The bigger wheel puts a LOT more twist into the fiber with MUCH less effort. Spinning is, therefore, faster.

And there's more, I'm sure, but now I want to get back to the delight of spinning on a wheel that is not only nearly brand new (it was built in about 2004) but is also...MINE.

*cackles*

Lookee! Alpaca!