Wow, I have been a BUSY girl these days! Between getting a new job, spinning up a storm, and doing a demo at a local fair, I'm beat! I've spent the last couple of days photographing, arranging, and posting my latest yarns on my actual site. I thought about posting them here, but some of the collages are quite large. I don't want to break your screens, so check 'em out here: http://www.divinebird.com/textiles.html

I've also updated my Etsy shop with a whole bunch of the yarns pictured on my page! The crazy thing is that even MORE are coming...wait til you guys see the sock yarn that's on my wheel right now! It's fabu.

Tomorrow or Sunday, I'm dropping off my entries to the Big E skein contest (that's at the Eastern States Exposition, for you out-of-towners)...wish me luck. I've never entered yarn before! I planned to at this year's Massachusetts Sheep & Wool, but you may remember that I missed the deadline, making the Big E my actual first competition!

Speaking of which, I got the best compliment of all the other day. The guild member who told me about the competition is someone to whom I look up when it comes to spinning. When she heard that I had officially entered, she gave me a big grin and said happily, "Well, it's nice to know we'll actually have COMPETITION this year!" This is the kind of person who always places in these things, and rightly so. She and a couple of other guildmates usually compete and I think they've been hoping for some fresh competition. Though the statement could sound haughty to some, I know this woman, and I took it in the best way possible. If she thinks I can compete against her yarns, well...I feel better about entering now. :)

Ok, so I said I wouldn't post my collages here, but I can't resist a few. If they're too big, just go to my site and look at 'em there. :)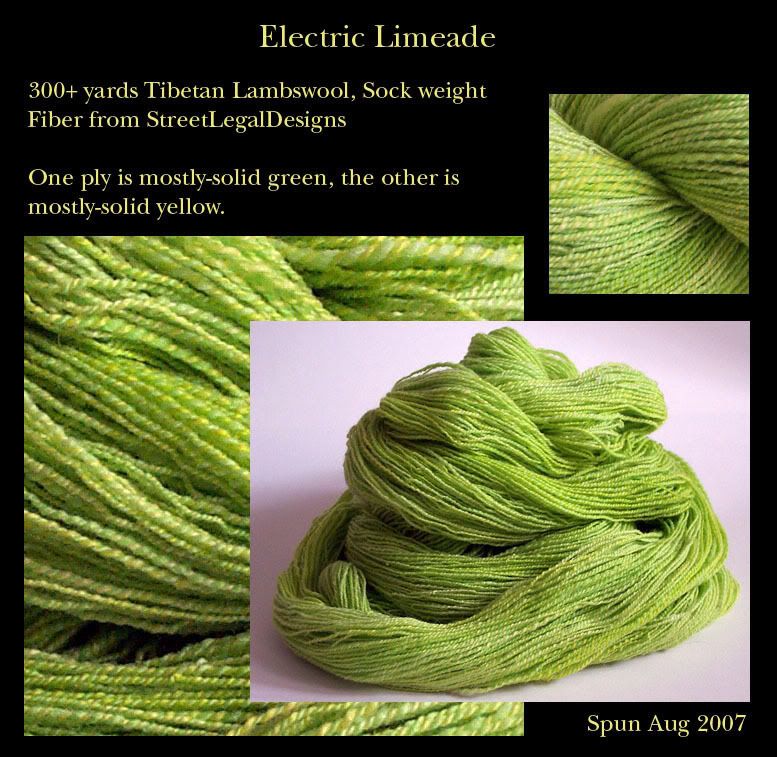 Ta!