In the middle of doing NaNoWriMo (I WON! SEE MY ICON! XD) and knitting holiday gifts, just because gifts, commissions, and charity things, I decided suddenly upon getting my copy of AlterKnits in the mail that I just HAD TO MAKE the fingerless glove/mitten/lace up thingies.

For myself.

Right now.

I just HAPPENED to have two skeins of Manos del Uruguay handy--the pattern really only needs one, but hey. I have two. I just HAPPENED to be looking for something to make out of them that I could wear this winter, along with the scarf and hat/band/earwarmer thingy I'm making out of the Debbie Bliss Soho I got from my secret pal a couple of months ago.

So here we are, some very warm, very pretty (*I* think) fingerless arm warmer thingies.

Because warm thingies are nice.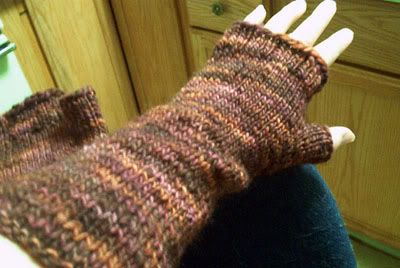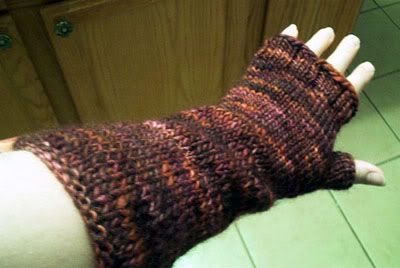 So you can see the ribbon and the gusset: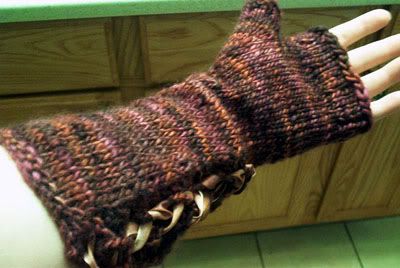 OH and this is neat, too--a scarf I made from the yarn my pal spun and sent to me. I love how it ended up striping at one end. XD I get so many compliments on it when I wear it; it goes with everything I own. For this, I just did feather and fan and knitted the whole darn skein 'til it was gone.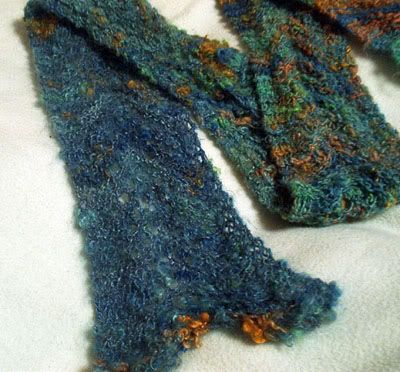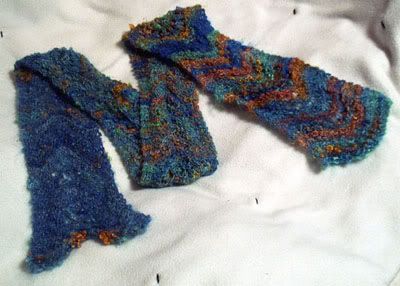 And then some UFOs:

This one is made from handspun alpaca, by my favorite LYS owner's alpacas. :) The colorway is called Citrus, and it really is beautiful. The colors are more subtle in real life. She is going to be dyeing some of the same yarn in the same colors, only with the greens prevalent for the body of my sweater. Yellow isn't my best color, but green is fantastic on me. :)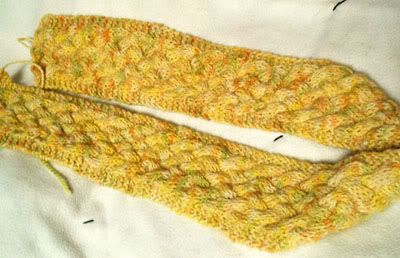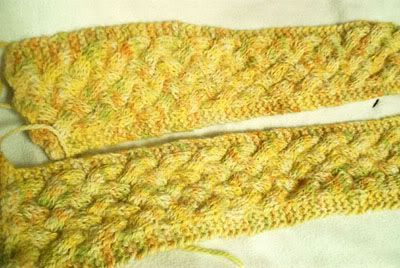 This next is my own design. I wanted to knit Pac-man eating the dots and chasing ghosts; the best and easiest way for me was to knit him side-to-side. I learned fair isle, intarsia, and charting for this. :) Part 2 is in the works, and will be 3-needle bound off when done. :)




And a close-up: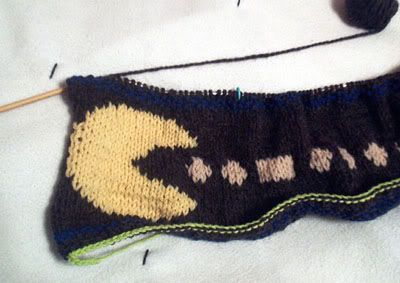 I know, pic-heavy. :) I have been sitting on some of this for a while now. :)