Your reactions to this will be either OH COOL GOOD JOB or OH GODS HERE SHE GOES AGAIN...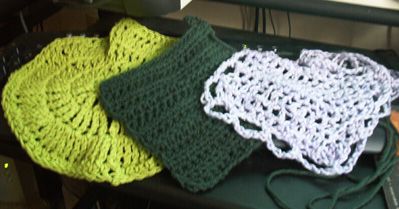 Yeah. I taught myself how to crochet this weekend. Be afraid. Be very afraid.

My third, first, and second projects. From left to right, all with a K hook (as that's the only one I had): My third project, in lime green kitchen cotton; my first project, in Cascade 220, Evergreen, I think; and my second project, in Manos del Uruguay Cotton Stria, in lavender.

My REAL first project was taken apart, actually, and turned into the middle thing on the picture. I have now figured out chaining, single, double, half-double, and treble crochet. I actually have a fourth project (lime green cotton again, also in the round) that I did tonight while in the car on the way to a meeting. (I was not driving. XD)

I also picked up a copy of "Big Girl Knits" after hearing everyone rave about it; once I realized that I would make three of the tops in a HEARTBEAT, I knew I had to get it. Since then, I've looked through it and decided I would actually probably end up making half of the projects in the book. It's just that good. I also love how the models are big and gorgeous but not like, size 14 big. Some of the girls make ME look skinny. <3 Already planning on the wrap sweater, the red tank top, the green coat, and the bombshell sweater. That last one is EXACTLY what I've been looking for all year. I can't wait to start on them. XD

Divine Bird updates coming tomorrow.