Here's the addendum to yesterday's post:

First, the last two skeins that I spun this weekend:


1 is the rest of the blue, about 30+ yards
2 is an unnamed sheep's wool, about 8 yards

And below we have the contents of the 'bag of needles & hooks' that I had been expecting. As you see, there are needles, and there are hooks...but what's all that fluffy stuff??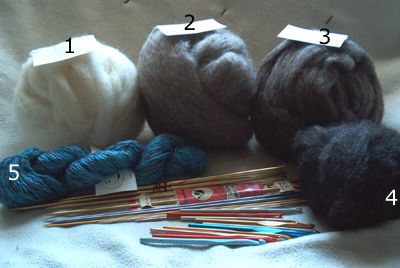 1. 4 oz Wool/Mohair
2. 4 oz Rambouillet/Border Leicester in Brown
3. 4 oz Rambouillet/Border Leicester in slightly darker Brown
4. 1 oz Shetland sheep in Black (the only thing that wasn't in the bag; I bought that)
5. 200 yds Tencel/merino/glitz/alpaca/silk, about sport weight yarn. The color is turquoise shot through with pink/blue/black/green and some holographic glitz.

Yeah. NOT expecting the huge bag o' roving. Now you see why I spun so much this weekend?? :D

All roving & yarns EXCEPT the Shetland came from Blue Moon Woolworks in Coventry, CT. The Shetland came from Cairn Farm in Springfield, VT. I have the contact info for both places if you're interested.

Now pardon me, I have to go swim in my new roving. :D