I decided that this weekend, I wasn't going to go anywhere, do anything, or see anyone. I had a meeting scheduled for Sunday and that was it. I wasn't going to answer the phone, talk to anyone but my husband, and all errands were called off. I wanted one quiet day at home, without any interruption.

That changed on Friday night.

"I have left a bag for you with the needles and hooks that I promised," said the email, "Since I know you're a member of the Spinner's Guild, I'll have the Membership director give them to you when she sees you tomorrow."

I panicked; there was a meeting? I didn't even know. Admittedly, it's been hard to connect with the lovely lady who wanted to give me the needles, and we've been talking about them for months. I wasn't really a member of the guild, though I'd been invited many times and I always meant to go but something always came up and weren't guilds generally clique-y and what if they were mean and and...

What the heck, thought I, I'll go and put in an appearance. Maybe I'll stay for an hour. I'll bring my drop spindle and the small amount of fiber I have and maybe it won't be too bad.

Not too bad my FOOT. I had a freakin' blast.

Despite some serious spinning wheel-envy, I can't believe how much fun I had. I know, I know, most of you who read this are probably going "arg, more textile stuff" but I have to tell you that I am actually SAD that the next meeting isn't until October. SAD!!

I met a girl around my age who is also married and is on her second wheel. I met a bunch of ladies who were much older, too, but I wasn't nearly the youngest one there, either. The program for the day was about spinning with exotic fibers, such as silk, qiviut, mohair, cashmere, and angora. I thought I knew a lot about fabrics--and I do--but I still learned even more that day. I never knew the difference between different kinds of silks, or how the fiber producers divide their business between industries. Fascinating, for me!

I got inspired to spin all that day--you KNOW I stayed for the entire SIX HOURS--and as of this writing, I have spun up all the small (and some of the large) amounts of fibers I had lying around. I don't even want to stop, but my shoulder is protesting. In a good way, like, I worked out with it. Not like I strained it. :)

The fruits of my labor: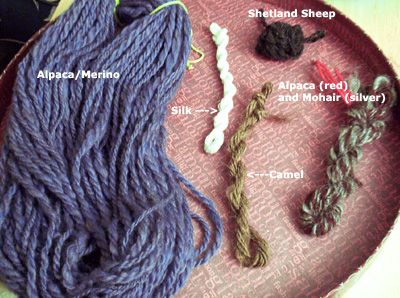 First, we have the overview, labeled for your convenience.

Here's the progression on the blue:

1. The original pic from when I got my Secret Pal package a few months ago (note also the camel, which also appears above):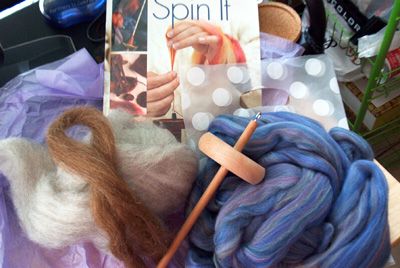 This is the best image for the color of both the camel and the blue.

2. The singles for the skein in the pic (which ended up around 67 yards):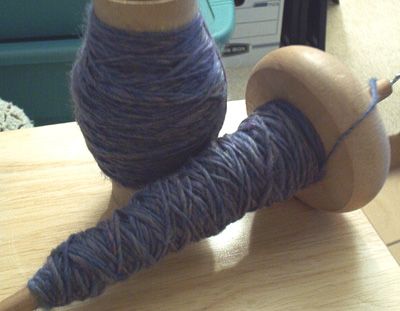 3. The plied yarn:



And now some closeups on the other yarns and things I did this weekend:

1. "Vamp" (named for the 1990s Chanel nail polish), a red and black alpaca yarn, spun to about sport weight (@ 30 yards):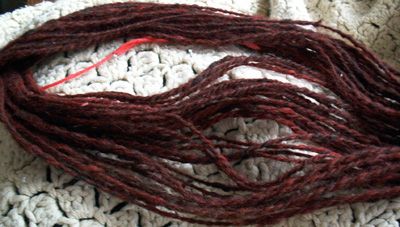 2. A single of Vamp and a single of mohair plied together (@ 9 yards):




3. The silk (@ 23 yards):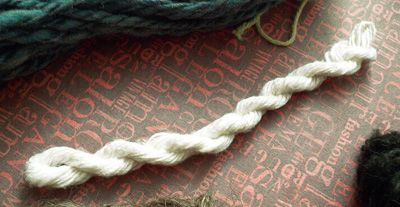 For comparison, my very first handspun yarn (NOT the stuff from a few posts ago--that was my first spun/plied/set yarn, which I consider the real accomplishment):


This is going to become another bunny. :)

Beyond what you see in the pics, I also have the rest of the purple-blue and a small skein of a pretty natural greyish-brown sheep's wool drying on the shower rod. Those will be done tomorrow.

OH, and the reason for my mad spinning up of many little fibers? Because that bag--you remember, the reason I was going to 'put in an appearance' at the Guild meeting--contained much more than a few needles and hooks. Oh yes. Pics of that will be coming...tomorrow. :)

(THANK YOU PATTY)

I feel more relaxed now.

PS: the image at the top of this post is a wallpaper I made using the pic of the blue plied yarn. It's sized for 1024x768, which is my resolution. Click on it to be shown the full size image, and save it as your desktop wallpaper if you like. You can also resize it by choosing "stretch" if your resolution is higher or lower than mine. Enjoy!